We recognize that all our patients are unique and deserve to receive dental care that reflects their individual needs. Our experienced and talented dental team is committed to working with you and your family to create a comfortable, stress-free, and rewarding dental experience every time you visit our practice.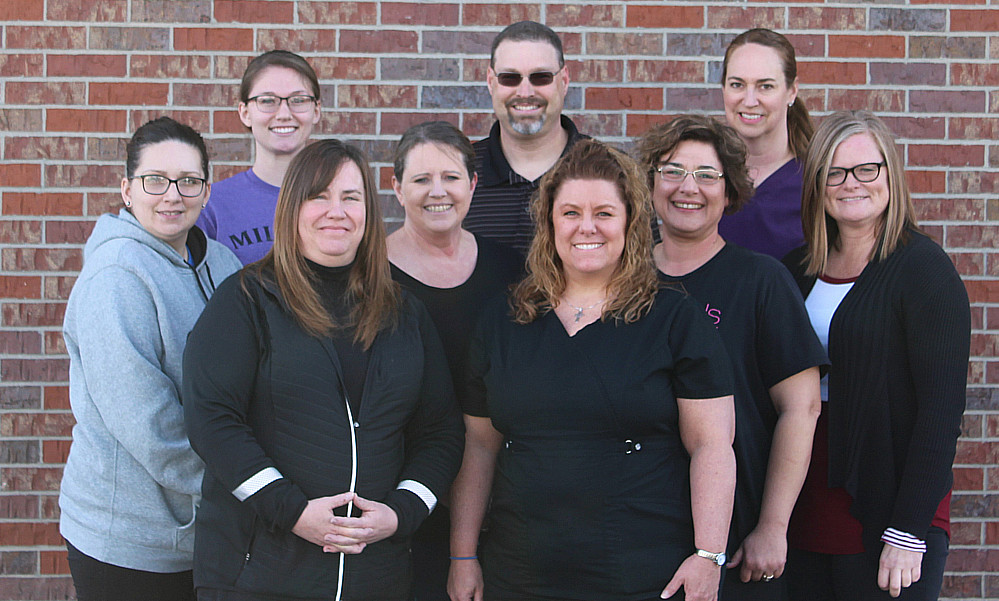 Whatever your dental problem, we can be your solution for a lifetime! Call our Lincoln or Milford, NE dental office today!
---

Diane
Treatment Coordinator
I love working with our patients! Whether I'm educating them about oral health and different treatment processes, answering their questions, or making sure they know they are in excellent hands while in our care, it's all rewarding. Seeing their smiles and hearing their thanks at the end of a visit lets me know we're doing a good job at keeping our patients happy. I schedule patient appointments, take X-rays, and sit chairside during patient treatment, making sure the doctor has everything he or she needs, and talking with the patient about what's happening and how much progress we're making. Connecting with our patients is important to me, and I enjoy our conversations.

My husband Jim and I have two daughters, Chelsa and Sidney. We have four beautiful grandchildren: Isabella, Baylynn, Alayah and Karson. In my free time, I love to spend time with my family. My grandkids keep me busy!
---

Mazzii
Treatment Coordinator
I'm so happy to be part of the Fallbrook Family Dentistry team! I love making patients happy and their experiencies enjoyable. I'm eager to learn everything there is about dental assisting, and I'm hoping to further my dental career by going to dental hygiene school in the future.
When I'm not taking care of the world's best patients, I enjoy relaxing with my family and my two dogs. I also have a passion for livestock and hope to own my own feedlot some day. In addition, I love spending time with my horse and teaching her new things.
---

Dinorath
Treatment Coordinator
I love being a member of the Fallbrook Family Dentistry team! I am a certified dental assistant, graduating from Southeast Community College for dental assisting, and am bilingual in Spanish and English. As one of our treatment coordinators, I serve as a liaison between the doctor and patient. My job doesn't stop there, though. I can also be found taking radiographs and intraoral photos, and keeping everything in the office running smooth and looking nice. The best parts of my days are the interactions I have with our patients. I really enjoy teaching them about their oral health and making their visit here a positive experience.
When I'm not in the office, I enjoy spending time with my husband, children, and the rest of my family and friends. My other hobbies include camping and working out.
---

Tami
Treatment Coordinator
I love that every day here is unique, challenging and rewarding, because my work combines my interpersonal skills with my technical skills. Not one dental procedure is exactly the same as another, just as each of our patients are unique, and we create treatment plans that are right for each person's specific needs. I fullfill many tasks that involve direct patient care, whether I'm assisting our dentists, hygienists, and front office staff, taking X-rays, performing infection control, or offering patient education. I love that I get to help in so many ways and look forward to coming to the practice each morning.
I am married to my husband, Jake, and we have a son, Thomas. I'm a morning person and a farm girl at heart. I love to spend time camping and playing sports, and am still trying to find my green thumb when it comes to gardening. My motto in life is simple, "There is always something to learn or smile about each day."
---

Mikaela
Treatment Coordinator
I love that I get to work closely with our patients while assisting our doctors during procedures. Getting to know our patients and their families is my favorite part of the job! Making sure they are comfortable and have all of their questions answered is important to me. I'm glad to be part of an office that thinks it's important to better our patients' knowledge about their oral health.
Outside of the office I enjoy spending time with family and friends. We love to travel! I have two young children, Kayden and Mireya, who keep me on my toes!
---

Alisa
Treatment Coordinator
I love my job at Fallbrook Family Dentistry! I look forward to coming to the office every day and working with my team. I find my duties as a dental assistant to be very rewarding knowing I make a difference in patients' oral health. My favorite part of my job is seeing the smile on each pateint's face after we complete treatment.
When I am not at the office, I am spending time with my husband and children and getting settled into our new home with our two dogs.
---
Cary
Relationship Coordinator
I have the pleasure of being the first person you meet when you enter the office! I love helping patients feel welcome in our office and making it easy to meet all of their dental needs, from understanding their insurance to scheduling appointments. Here at Fallbrook Family Dentistry, I am dedicated to being part of the team and giving each patient an individual positive experience at every appointment!
I recently moved "home" to Nebraska from Debuque, IA and am excited to be back cheering on the Huskers! I am married with three active boys and enjoy traveling and a multitude of sports. GBR!
---

Kiah
Registered Dental Hygienist
My favorite part of my job? Our patients! Simply making a patient smile, letting everyone know how much we appreciate their coming to us for their dental care, and making them feel comfortable, all make my day enjoyable. The smiles I receive in return, and the hugs, are rewarding. My days are spent working one-on-one with patients, performing teeth cleanings, using various advanced dental diagnostic imaging technologies to look for problem areas, and applying pit and fissure sealants. I also administer local anesthesia and localized chemotherapeutics. A lot of my focus is on helping patients understand their oral health needs and educating them on the best ways to keep their mouth healthy and clean between visits.
I live in Lincoln and love spending quality time with family, friends, and fiance, KC. My interests and hobbies are varied and include swimming, singing, fishing, archery, and writing poetry.